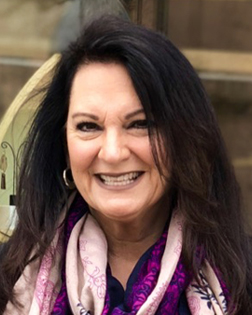 Cynthia S. Legault, CFP®, CDFA®
Chief Executive Officer & Chief Financial Officer
Founder (1996)
Littleton, MA
This is Cindy, she is our fearless leader. She reminds us that she couldn't be a leader without our valued, hand-picked clients and our wonderful team here at FNI. Aside from her leadership role and responsibilities at FNI, she is a benefits consultant, wealth advisor, CERTIFIED FINANCIAL PLANNER™ and Certified Divorce Financial Advisor™. Her former experience includes Boston mutual funds, banks, and accounting & consulting firms. Cindy splits her time between managing the firm and working with clients. She is a frequent speaker at client conferences and a champion of women in financial planning. Cindy's superpower is conveying complex subjects in simple terms.
She was awarded her CFP® Certification after completing her education at Merrimack College in 2004. She holds an A.S. Degree from Westbrook College (now University of New England), a B.S. from Lesley University and the designation of CDFA® (Certified Divorce Financial Analyst™). She is Series 65 licensed, a member of the Financial Planning Association (FPA™) and the National Association of Personal Financial Planners (NAPFA). Cindy is currently studying for the Student Loan Certification.
Cindy founded the firm in 1996 as a sole practitioner providing vendor search services for corporate retirement plan sponsors. In 2005 she expanded the firm to include wealth advisory and financial planning services. The firm now serves clients from the medical, labor union, educational, and medical research fields.
Cindy enjoys projects on her homes in Massachusetts and Maine and spending as much time as possible outside. She loves to cook and entertain, create mosaics out of old smashed china, and spend time with her husband, Max, her daughter, Moira and her dog, Captain.
---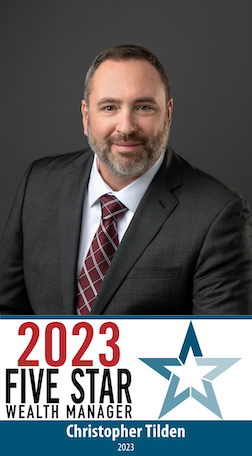 Christopher M. Tilden, MS, CFP®
President & Chief Investment Officer
Manchester, NH

A 2023 Five Star Wealth Manager Award Winner, Chris is a trusted advisor and chief investment officer at Financial Navigators, Inc. With over 25 years of financial experience, he has become the cornerstone of sound financial planning, which feeds into the construction of a fully customized portfolio.
Chris enjoys sharing his expertise in portfolio management, retirement planning, income planning, and general tax strategies with both individuals and multigenerational families. He believes in a proactive approach to wealth management to minimize risks while providing more significant opportunities for growth.
Before becoming a financial planner, Chris was the Chief Financial Officer for a Boston-based music publishing, production, and promotions company. He is also a veteran of the US Navy, having served five years during the Gulf War as the financial manager for USS Theodore Roosevelt, CVN-71.
Chris has his Master's in Financial Planning from the College of Financial Planning and a B.S. in Accounting from Southern New Hampshire University. He holds the coveted Certification of Financial Planning designation from where he schooled at Suffolk University. He is Series 66 licensed and a member of the Financial Planning Association (FPA™), Northern New England Chapter. He's a frequent presenter to groups of employees from our consulting relationships.
When not working, Chris likes to spend time with his wife Annie and their dog Juniper walking/hiking in their home state of New Hampshire. He writes and records music in his home studio as an avid musician.
---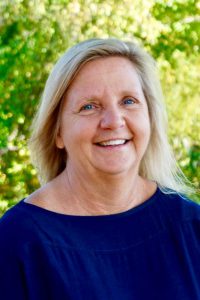 Marcia L. Lewis, MS, CSLA®, ChFC®
Executive Vice President & Chief Compliance Officer (CCO)
Wakefield, MA

This is Marcia. Aside from her compassion with our clients she stirs up a mean stew of compliance to make sure we all stay on the straight and narrow.
Marcia is a consultant, wealth advisor and financial planner who came to us from one of our corporate clients. She is now an owner in the firm and among her many roles she serves as our Chief Compliance Officer. In her previous roles she was the director of a pre-school in Boston for 9 years and had a similar role at LOTUS and IBM where she worked for 15 years. She enjoys working with individuals to identify long-term retirement goals, offering guidance and strategies to optimize current options.
Having worked directly with families trying to navigate the struggle between work and family, she has a unique perspective to the challenges faced by hard-working professionals. She teams-up with Cindy and Chris to provide financial planning and wealth services to clients. She enjoys counseling our consulting clients where she spends more than half of her time. Marcia's extensive experience in education and management makes her instrumental in the firm's own direction and management.
Marcia has a B.S in Psychology from Utica College of Syracuse University and earned her master's degree from Wheelock College. She completed the Financial Planning Certificate Program at Boston University and is Series 65 licensed. Marcia is a member of The Massachusetts Chapter of the Financial Planning Association (FPA™).
Marcia enjoys spending time with her boyfriend, Bruce, playing golf, relaxing at the beach and cooking for friends. She also travels to upstate New York to spend time with her family.
---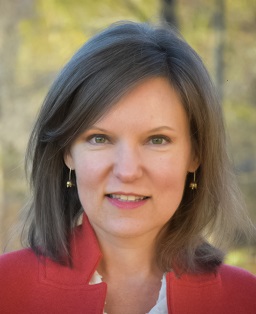 Casandra A. Johnson, MBA
Partner, Financial Planner & Wealth Advisor
Bolton, MA

This is Casandra. Somehow, she has found the fountain of youth while having a significant number of years in the business. She needs to share this recipe with others.
Casandra is a partner, wealth advisor and financial planner. She joined the firm in April 2019 after spending 5 years as a wealth management advisor for TIAA. Prior to that, she worked both as a financial planner and on the asset management and distribution side of the business. Her specialties include comprehensive financial planning, risk assessment and retirement income planning with a focus on asset distribution and estate planning. She has a knack for communicating complex financial concepts in a simple, easy to understand manner.
Casandra has a B.S. in Business Administration from The University of Connecticut and an M.B.A. from Sacred Heart University. She is Series 65 licensed, allowing her to provide investment advice.
When not working, Casandra likes to spend time with her daughter and husband. She enjoys activities such as skiing, ice skating, hiking, camping, hosting gatherings and boating.
---